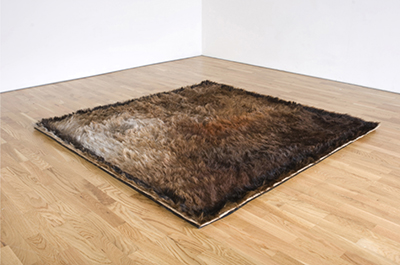 A Grammar of Sentiment | Dr Bharti Parmar
Bharti Parmar is a British artist and academic with a practice of over 25 years.  She trained in Fine Art Printmaking at the Royal College of Art and her PhD (awarded 2009 University of Wolverhampton), entitled A Grammar of Sentiment, examines the potential of C19th material culture, particularly jewellery, towards making new art about love and loss in the present time.  She says:
My work as an artist is characterised by an interrogation of tenderness and beauty; I produce work with skill and attention to detail using processes normally associated with craft.  I am interested in the handmade and the highly crafted – but made from 'the wrong materials.'  My thinking is situated within the Surrealist-derived engagement with the 'overlooked' and references key moments in art history.
She was appointed artist in residence at the Irish Museum of Modern Art, Dublin, Ireland earlier this year where she developed a series of watercolours which play with visual representations of graphs and data. In Talking Practice, Parmar will provide an illustrated talk about the interconnectedness of her work as an artist and her academic research with a particular focus upon her interest in worn material culture.
Talking Practice is delighted to invite you to what promises to be a fascinating talk for those interested in race, material culture and sentimental jewellery.  All welcome!
Book online here