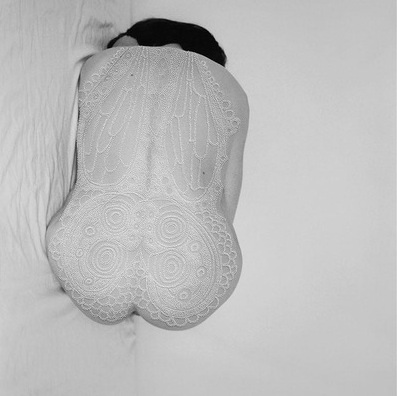 In conversation with Jessa Fairbrother and Private view
The Vittoria Street Gallery is delighted to host a solo exhibition of work by international artist, Jessa Fairbrother. Armour studies (regarding skin) will be on show at the Vittoria Street Gallery between Monday 16th January and Friday 17th February 2017.
Talking Practice and the Vittoria Street Gallery invite you to join us for an evening of conversation and wine, as we explore Jessa's cross-disciplinary work around the identity, the body and self-portraiture. Jessa will be discussing her work in conversation with Sian Hindle from 5pm in the lecture theatre, and there will be an opportunity to meet the artist and view her work in the Vittoria Street Gallery between 6-7pm.
Armour studies (regarding skin): As a photographic artist using textile techniques, Jessa's work crosses over disciplinary boundaries, and she is interested to explore the body as both vessel and surface. Employing self-portraiture, the artist's body hovers on the edge of being the material and subject as she explores the connection between her form and the exterior world. This solo exhibition brings together a collection of works where she performs within the image and upon it, cladding her physical identity in armour to protect it from her own disappointments and the viewer's scrutiny.
Book online here