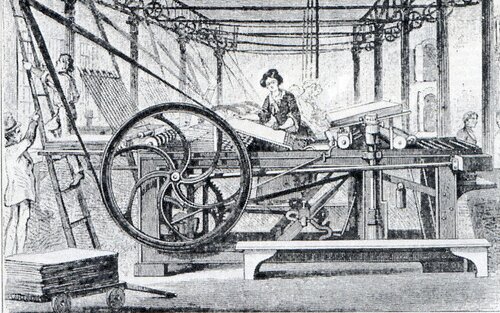 Call for Papers: Gender and the Book Trades
DEADLINE 31 JANUARY
This conference is organised by the USTC at the University of St Andrews.
Gender has always played a role in the history of the book. Whether explicitly acknowledged or implicitly assumed, considerations of gender have shaped the printed book and its subsequent study. Important research has drawn attention to women's work in the manuscript and printed book trades across and beyond Europe. Work which tackles questions of masculinity and the book trades, meanwhile, remains conspicuously scarce, even as male subjects remain the default for many bibliographers.

This conference seeks to discuss possible frameworks for analysing the critical relationship between gender and book history while confronting the binaries that have structured the historiography. It will bring together academics, librarians, archivists and antiquarian booksellers working across periods to build a more inclusive bibliography and explore new directions in the study of gender and the history of the book.

Topics may include, but need not be limited to:
The gender of books

Theory and practice of feminist/inclusive bibliography

Constructions of masculinity and the book trades

Gender nonconformity

Intersections of gender and confessional identity

Sexuality/ies and the book

The influence of family dynamics on the book trade

Women and book production, especially beyond Western Europe and North America

Communities and identity

New methodologies for the study of gender in the book trades
Online conference: 16-19 June 2021
As this will be an online conference we have decided to facilitate wider discussion by varying our standard format in the following ways:
. We invite all participants to provide us with a circulation version of their paper of 2,000-4,000 words by the end of May 2021. All provisional drafts will be circulated to participants three weeks before the conference. In panels, each speaker will have the opportunity to give a discursive introduction, on the assumption that everyone present will have read the pre-circulated version. Time will be given both for the other panelists to respond to their paper in roundtable form, and for questions from the general audience.

This will also facilitate timely publication of articles based on the conference proceedings as soon as possible after the conference takes place. We will provisionally be inviting participants to send completed versions of their papers by 30 September 2021. This will ensure that this important work will reach a wide range of interested readers soon after the conference takes place.

It is our belief that this more accessible format will augment, rather than diminish, the content of this conference. Participants and attendees will be able to register free of charge. We plan to open registration in March 2021.
Please send proposals (maximum 300 words) and a short biographical note to Elise Watson (egw2@st-andrews.ac.uk), Jessica Farrell-Jobst (jjfj@st-andrews.ac.uk) and Nora Epstein (njne@st-andrews.ac.uk) by 31st January 2021. We look forward to hearing from you!