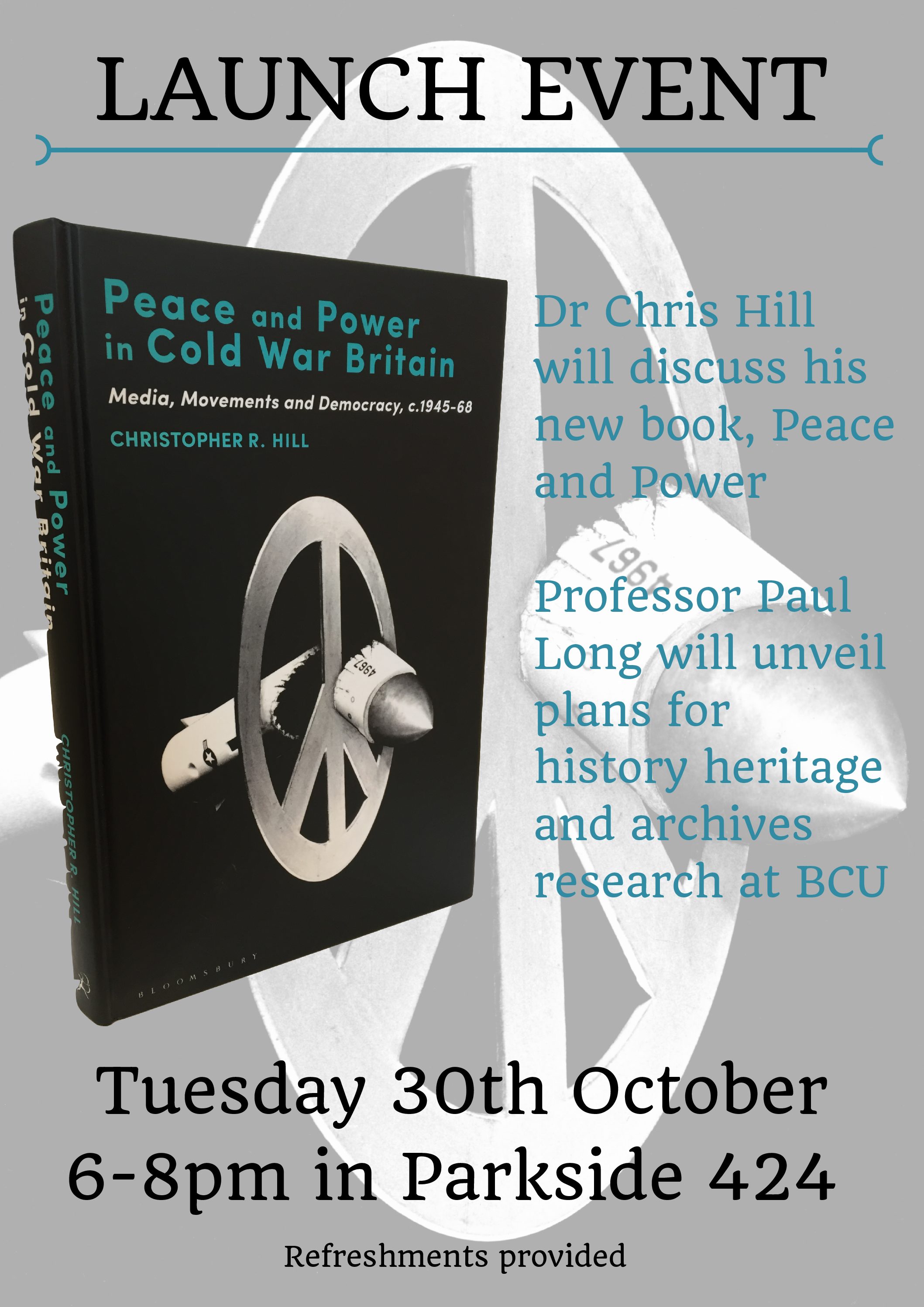 Please join us for the launch of the History, Heritage and Archives Research Cluster in the Birmingham Centre for Media and Cultural Research, Birmingham City University (BCU).
The cluster meets on a monthly basis and seeks to connect academics, archivists and librarians, community groups and heritage professionals.
This event event will introduce our work and set out plans for History, Heritage and Archives research and activity over the next year, with a particular focus on how interested parties can work together to think critically about public history in Birmingham and beyond.
As part of the launch, Dr Chris Hill will introduce his new book, Peace and Power in Cold War Britain. The book examines relations between radical traditions of liberty and media technologies, particularly as they played out through post-war peace movements and the rise of television.
Professor Paul Long will facilitate a session of short presentations on current and future research in History, Heritage and Archives at BCU.
The event offers a friendly space and welcomes you to share your  projects relating to public history and ideas for debate and discussion.
Join us between 6-8pm in Room 424 of the Parkside Building, City Centre campus, on Tuesday 30th October (presentations 630-7pm). Please register here for this event here.
Reviews of Peace and Power
This important book reveals how radical politics and new communications technologies were deeply entangled in the history of Cold War-era Britain. Drawing on extensive original research into the anti-nuclear movement, Christopher R. Hill shows how activists reconfigured existing traditions of political protest for a mass media age. It will be of great interest to scholars in history and communications studies." –  Helen McCarthy, Lecturer in Modern British History, St John's College, University of Cambridge, UK
"In this timely and convincing account, Christopher Hill reframes postwar political history by showing how the changing format and reach of mass communication shaped shifts in cultural authority, political strategy, political protest, and the relationship between the leaders of radical movements and ordinary participants. This book is necessary reading for anyone interested in the relationship between information ecologies and campaigns for a more egalitarian political order." –  Radhika Natarajan, Assistant Professor of History & Humanities, Reed College, USA
"A revealing book about the interactions between the media and political movements in sixties Britain. It blends history and communications theory to offer new insights into the cultural Cold War and to challenge prevailing views on Britain's radical decade." –  Tony Shaw, Professor of Contemporary History, University of Hertfordshire, UK