There's so much exciting research going on within the Schools of Art, Design and Media, that we have decided to illuminate it through our regular PGR Studio blog. First up is…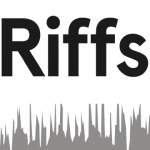 Riffs is a journal funded by the Birmingham Centre for Media and Cultural Research (BCMCR). It is run by an editorial board of staff and students from across the School of Media and the Conservatoire, but welcomes members from across BCU.
Set up in 2017, and emerging out of a BCU writing group, Riffs aims to provide a space for experimental research on the topic of popular music. The editorial team publish two full issues on a prompt each year (online and in print), in addition to several zine special issues which are the product of writing workshops and collaborations with music conferences and festivals in the UK and Europe. The website also hosts Riffs|REVIEWS, student work and a Riffs|OPEN section.
In consciously addressing the unhelpful barriers that can sometimes separate academia from industry and community, each Riffs publication includes work by musicians, researchers, music writers, photographers, artists and other creative contributors. In creating an accessible, distinctive and fluid aesthetic, the journal works with BCU alumni and established photographer Ian Davies, BCU media design talent Iain Taylor, and talented BCU students to include Rhiannon Davies, Bethany Kane and Laura Chen.
Riffs is an Open Access, peer-reviewed and independent publication committed to broadening audiences for critical engagements with popular music and to questioning the communicative forms that have come to dominate academic research. Each publication is slightly different from the last and aims to engage with a diverse audience and team of collaborators from Birmingham and beyond. So far, the Riffs team have published:
The next Riffs issue (Vol 3 Issue 1) will explore music festivals and issues of liminality and ritual. Available on the website and in limited edition print in October 2019!
If any of that interests you, click on the links and take a read! All issues can be read online or downloaded. And if you feel inspired to get involved, email the team at info@riffsjournal.org – they are always searching for contributors, collaborators, designers, peer reviewers and editorial board members.
Follow Riffs on Twitter | Facebook | Instagram to keep up-to-date on publications and events.