MY BIRMINGHAM-ERASMUS EXPERIENCE: THE SEASON OF CONTRADICTIONS
Lade Atofojomo
I used to love travelling in and around Nigeria as a teen and young adult and did so within my limited budget as often as I could, but responsibility of career, home and children seem to have 'cured' me of this love. I had also been to the United States of America but had never been to Britain or any other part of Europe, so, when the chance at going for an Erasmus exchange programme came up, I jumped at it, developed cold feet at some point but still forged ahead encouraged by my spouse to go for it.  The journey then started in earnest, beginning with an internet search of the weather to know how to 'prepare' properly for this experience. The search said we'll be coming towards the end of winter and about to go into spring so I thought no need for winter gears. More 'experienced' travellers added their voices, "you just probably need a cardigan and a jacket not necessarily a winter jacket". So, I packed my bag and went off to Birmingham in February. Brrrr it was really cold but bearable I thought, especially as the weather is supposed to get warmer anyway as the day goes by. But I never expected the BEAST from the EAST to join the party. Poor me coming from a region where the sun is always shining to bone chilling cold and now snow was a shock I was not prepared for physically or psychologically. "Oh no" I felt, "why should it be during my visit that there should be this kind of weather" I asked myself. I had to trudge on and get some form of appropriate wears then prepare myself psychologically to survive in this 'unfriendly' atmosphere. This contradiction of weather was the first.
But as the trip went by, the experience grew sweeter. Looking back now at this end of this wonderful journey, I see all the bad and good stuff that happened and I cannot help but marvel at how much I have grown in three months. You cannot help but compare where you are coming from with where you are and I noticed a lot of contradictions. My narrow-mindedness about certain areas of life were expanded. I judge less now I hope. My stilted viewpoint about research is opening up, though I recognize the fact my society might not be totally ready for all the innovation I see here. I see the beauty in teaching with practise. It was traditional viewpoint versus a more modern viewpoint era for me. (I hope the open-mindedness will not close up after a few weeks at home).
My PG Cert experience was awesome, I met with a myriad of people from different backgrounds all sharing professional, research and personal experience all rolled up in one. I got to use my brain more in this class and understood the dangers of complacency. I get to question things more and to see that no subject is too little to attract research. Much as I understand that the problems of your society will be at the forefront of research, I also learnt not to see any subject as paltry. I recognize that in the traditional society I come from, some of these research subjects and their methods would have been frowned upon, but society moves forward by learning new things from other cultures and integrating with the pre-existing to make a better world. There are research cultures I have learnt here that I cannot even get the feel of if I come for a two or three-day conference instead. I learnt about positionality as a researcher and the trajectory of my intellectual journey after Ph.D., I wished I had come right at the beginning of my doctoral programme, but I have insights to help even at this stage I am now that I could never have had sitting back in the comfort of my home. The contradiction of 'traditional' versus 'modern' research!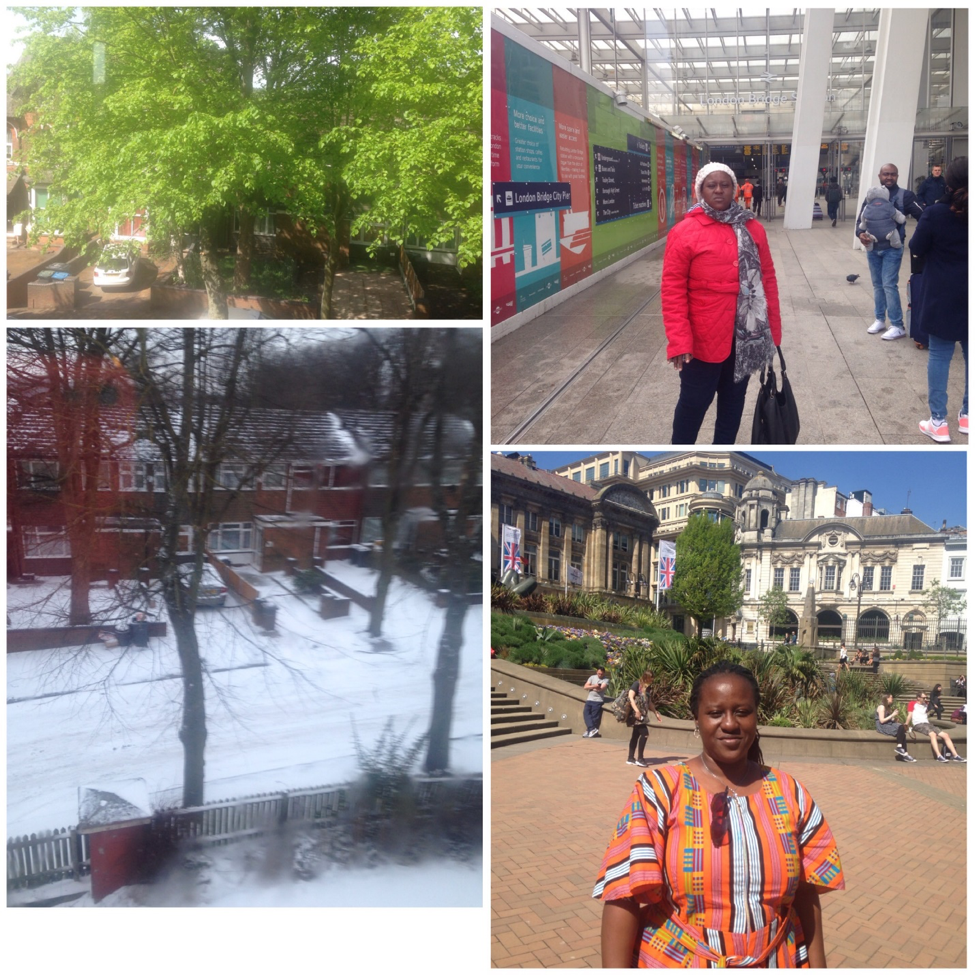 I see during this journey the beauty of nature and awesomeness of God. The trees outside my house in Hockley seemed dead when I moved in, bare of leaves and fruits, but today I see those 'dead' trees sprouting leaves and flowers. There is a profusion of colours all around me it is unbelievable, it is like a resurrection, something dead coming to life. In February, sunset was about 4.30pm but now I wake up at 5am to a bright sunny day and go to bed at 8pm still with the sun shining. It is a paradox and an experience I never would have had if I had stayed back in the comfort of my family home in Lagos. At home season in and season out, the earliest time for sunrise is 6am and by 7pm we have sunset. Our trees are not completely devoid of leaves throughout the year. When it rains in Nigeria, it pours, but in Birmingham it's a drizzle compared to my experience. The contradictions of nature!
I live in a multi-ethnic society but here I am in a multi-racial world opening up my vista to a different experience altogether, I have met up with open minded individuals who has shown me how not only to strengthen my research focus but also to appreciate where I come from, I have discovered that the grass is not always greener on the other side than I thought, I had discovered that there is no perfect society anywhere. I have read of rape and senseless killings even here in the United Kingdom, I have seen dirty streets and lazy politicians, I have encountered acceptance, love and rejection from this society I have learnt that sharing your knowledge with total strangers takes away nothing from you. I have seen that everywhere you find yourself, you will see beauty, you will see ugliness, you will see the good and the bad. Every travel is an experience, every travel is a contradiction of sorts because you will always compare where you have been to where you are. Every travelling experience is indeed a season of contradictions and my Birmingham Erasmus experience is not an exception.