Inside//Out is our mid-year festival of PhD research that takes place every January. ADM postgraduate researchers at all stages are invited to join the festival line-up and present/discuss/exhibit/perform their research … all in 5 minutes!
The festival offers a space for researchers to socialise, have fun and to get 
inside
ideas
out
there in the form of short pecha kucha–style talks, provocations, posters and more. This unique opportunity enables our PGRs to disseminate 'work-in-progress' in a fun, safe and supportive environment. We also welcome PGRs to collaborate in organising the festival with us.
In the past, talks have included operatic utterances to virtual reality experiences and haptic explorations. Surprise us!
Inside//Out 2022
Our fifth festival took place on the 26th January 2022 and was a huge success! Our fabulous headline acts included:
Salome Chitaia / Benjamin Cottrell / Laura Hind / Frederick Hubble / Niamh Seana Meehan / Nana Katsia / Samuel Oram / Gay Place / Kateryna Sivak / Aidan Teplitzky / Melanie Woodhead / Harry Nona Wyld
Plus special guests Dr Sally Bailey + Dr Helen Hopkins
Thank you to the wonderful Harrison Charles and Yasmin Boyle who organised the festival as part of a PGR Studio Research(er) Residency. Watch out for our alternative publication of the 2022 festival, with more information about the speakers and their contributions, in the form of a limited edition zine.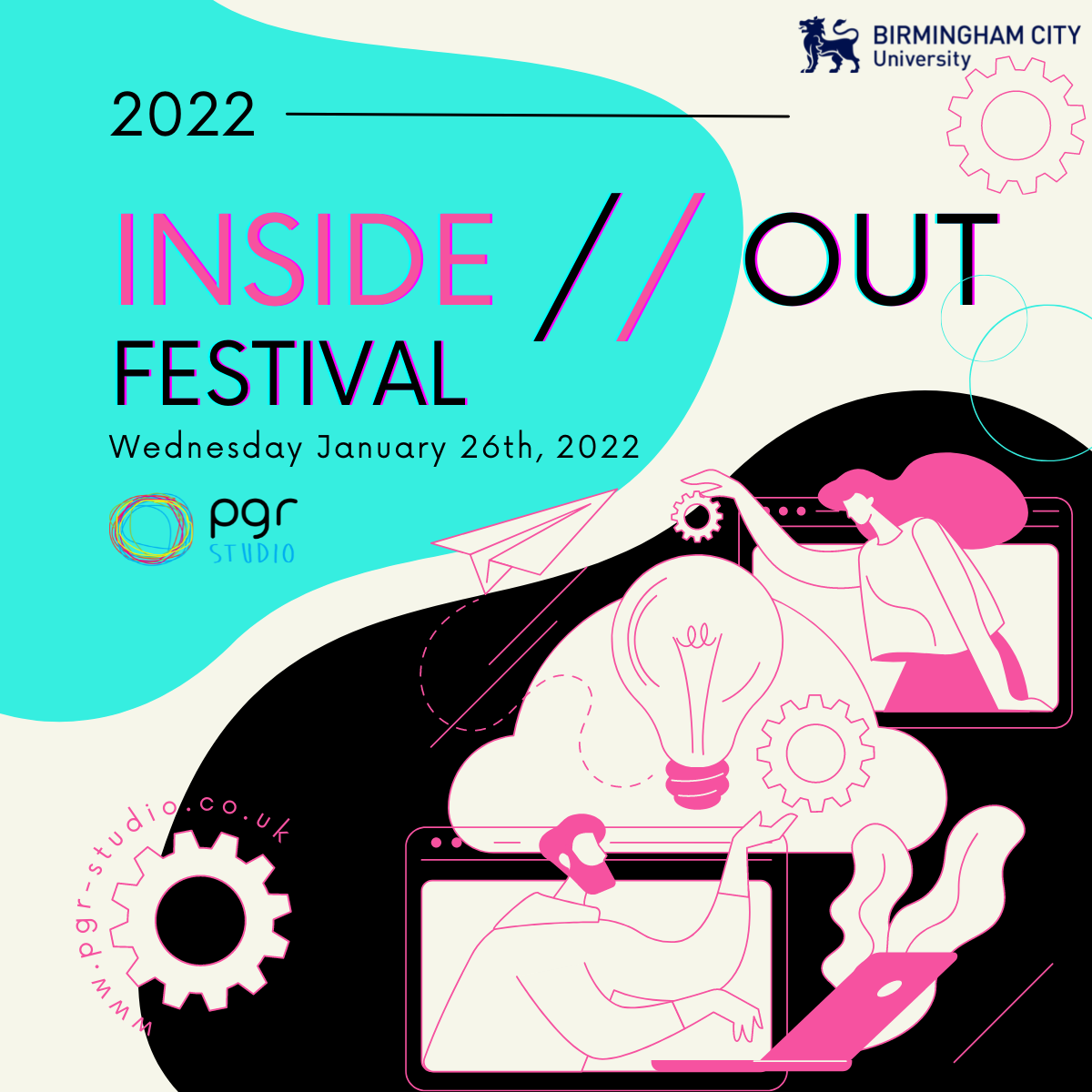 Find out more about each of our festivals by clicking on the tiles above. We also commissioned a special one-off video of our 2019 Inside//Out festival below … Sound on!