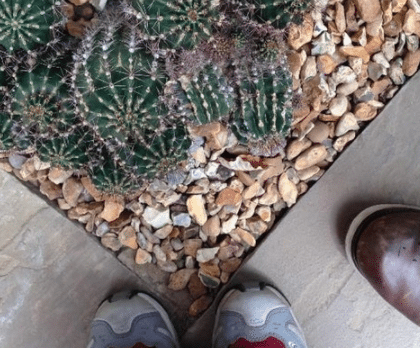 During the spring months, members of the ADM PGR community will get the opportunity to participate in three walking tours organized by Gregory Dunn, artist & AHRC Funded PhD Research Candidate and supported by the PGR Studio's Research Development Fund. Please, find the invitation for the first walk below …
>Waking>Walk>Winterbourne>
Want to experience a waking life outside of BCU? Please walk beside me on a short and stimulating stroll (only 0.6miles!) to Winterbourne House from 'University' train station. We'll move amongst staff and students, traversing the University of Birmingham campus and contemplate outdoor art, geological remnants, old masters and young flowers along the way. I'll primarily perform the role of guide, sharing my love of the location, our course might possibly be steered by your desires and distractions but that's okay. During the walk, I'll endeavor to un-pack and share my own PhD research and ask for you to consider ways in which we ingest the world.
Details:
Train from Birmingham New Street to University
Dep: 10:02 Arr: 10:09
Train from University to Birmingham New Street
Dep: 14:00 Arr: 14:09
(*Transport and entrance fee to Winterbourne house paid for by PGR Studio)
To participate, please register here.