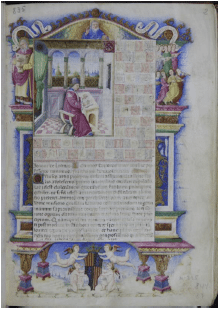 We are pleased to invite you to the autumn series of Public Research Seminars at Royal Birmingham Conservatoire.
Pedagogy and Music History – two perspectives through time 
Part 1 – Music in A-Levels: curriculum and hegemony 
A-Level music has long stood as one of the qualifications many students who pursue music into higher education engage with. In response to policy statements marking a return to greater political control over canonic works in education, aspects of the current A-level music syllabi (bear similarities to qualifications offered from the 1950s-c.1980s. What are the implications of this? In this presentation I will outline the results of recent research into A-Level music provision and designated 'study pieces, considering the impact this might have upon musical understanding.
Part 2 – Musical Exemplarity in Fifteenth-Century Music Theory: towards an understanding of the musical examples of Johannes Tinctoris (c. 1435–1511)
The notational treatises of Johannes Tinctoris – a music teacher, translator, and diplomat – are among the most important texts on musical practice from the late fifteenth century. His texts give us a particularly interesting perspective on musical practice, and the use of examples. This presentation will set out the arguments for looking more closely at musical examples, and the role they have in theoretical discourse. By situating these treatises within a broader theoretical context, we can better understand the ways in which such texts might have been read.
Adam Whittaker is a post-doctoral researcher working on a variety of music and music education projects at Birmingham City University. His work on Johannes Tinctoris's examples has recently been published in Plainsong & Medieval Music. He is also currently engaged in research projects funded by the Department for Education and Trinity College London, working to address areas of musical need and understanding in a variety of musical contexts.