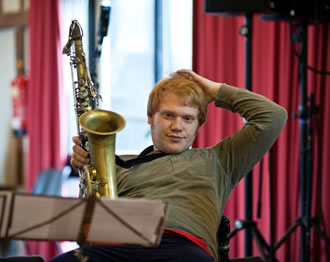 Tom Challenger  (Trinity Laban)
 Saxophonist Tom Challenger delves into his recent practice, which centres upon composed and improvised materials for soloist, in both preparation and performance. In seeking to expand creative possibility, he will highlight areas of his research that investigate various ways improvisation and composition can co-habit and interact in a shared space.
Focussing upon his recent work 'Labtayt Sulci' (2018-19), he will explore the emergent, entangled properties that have arisen during the cycle of realisation. In particular, he introduces the idea that the piece challenges instrumental, improvisatory and embodied hierarchies; encouraging instead a view of it as a heterarchical system.