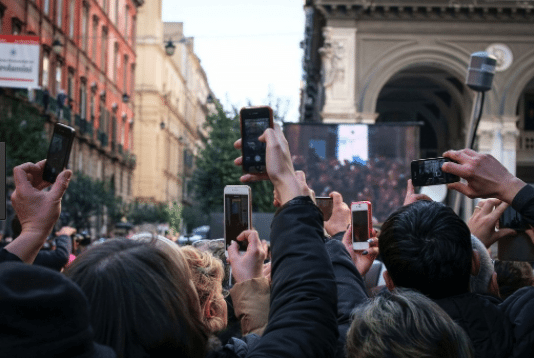 BCMCR Research Seminar: 31 October 2018
Scream Cultures: A Halloween Research/Practice as Research Themed Special
1600-1730 Wednesday 31 October 2018
C284, Curzon B, Birmingham City University
Free registration at this 
l
ink
Dr Craig Mann (Sheffield Hallam University) – Who's Afraid of the Big Bad Wolf?: Werewolf Films and Cultural Fears
While in-depth cultural histories have been devoted to understanding other classic monsters in relation to their shifting cultural contexts, including the vampire, the zombie and Frankenstein's creature, the werewolf has traditionally been understood by scholars as a manifestation of 'the beast within', or the dark side of man. Drawing on the subversive werewolf films of the 1970s as illustrative case studies – closely linked as they are with 'New Horror', the countercultural movement closely associated with the early works of such filmmakers as George A. Romero, Wes Craven, Tobe Hooper and Bob Clark – this talk will redress the balance by discussing the werewolf film as a product of its historical moment. In doing so, it will explore how we can begin to understand werewolves, wolf-men and she-wolves as rich and versatile metaphors for the pervading cultural fears of their times.

Dr Laura Mee (University of Hertfordshire) – Reanimated: Approaches to the Contemporary Horror Film Remake
Taking the contemporary horror genre as a case study, I suggest that remaking is an adaptive process, and that remakes can be analysed as texts in their own right, located within cultural, industry and reception contexts as part of recognisable cycles, production patterns and generic tendencies .This talk outlines the horror remake's position within a wider culture of cinematic recycling, and explores its relationship to other adaptive forms, addressing a number of questions: Is it possible to precisely define and categorise the horror remake? In what ways can remakes be considered to display originality and innovation, rather than simplistic 'copies'? How do remakes update the themes and styles of original films to appeal to contemporary audiences and fit with contemporary trends? This session represents a 'reanimation' of my doctoral research as I revisit my original thesis on American horror film remakes, updating the study and exploring additional ideas in line with recent developments, including the shift from film to television adaptation, and the increasing significance of nostalgia in contemporary culture.
Please see the Eventbrite link for the full abstract.
Professor Xavier Mendik (BCU) – Zombies Need Houses Too: A Film and Regeneration Project
Zombies Need Houses Too 
is a recent film and regeneration partnership project between BCU and the Firs and Bromford Neighbours Together scheme, which was funded by the National Lottery's Big Local Initiative. The project allowed Bromford housing residents to work with professional filmmakers and BCU students/graduates in order to create of a range of short films that explored issues of urban regeneration and community identity using zombie film motifs.
For many critics and theorists, the zombie film phenomenon has long been considered as a cinematic vessel through which a range of pressing social and political issues can be explored. As part of his talk, lead project investigator Xavier Mendik will discuss the extent to which the zombie film phenomenon can be used a vehicle to represent communities on the edge, and how such horror film traditions influenced the development of the partnership. His presentation includes the screening of two short films created as part of the project: 
Brombies 
(2017) and 
We Do Exist 
(2017).
Please see the Eventbrite link for the full abstract.
About the speakers:
Dr. Craig Mann
 is an Associate Lecturer in Film and Television Studies at Sheffield Hallam University. His first monograph,
Phases of the Moon: A Cultural History of the Werewolf Film
, is forthcoming from Edinburgh University Press. His work on genre cinema has been accepted for publication in the 
Journal of Popular Film and Television
, 
Horror Studies
 and 
Science Fiction Film and Television 
as well as several edited collections. He is co-organiser of Fear 2000, a conference series dedicated to contemporary horror media.
Dr Laura Mee
is a Lecturer in Film and Television at the University of Hertfordshire. Her research interests include adaptation, seriality and cultural recycling, with a particular focus on horror, cult and fantasy films. She is the author of Devil's Advocates:
The Shining
(Auteur 2017) and the co-editor of
Cinema, Television and History: New Approaches
(CSP 2014). Laura is currently completing a monograph, 
Reanimated: The Contemporary American Horror Film Remake
 (Edinburgh University Press 2019) based on her doctoral research, as well as publications on Stanley Kubrick and genre, and the adaptation of 
American Psycho
.
Xavier Mendik
 is Professor of Cult Cinema Studies at Birmingham City University, from where he also runs the Cine-Excess International Film Festival (
www.cine-excess.co.uk
). He is the author/editor/co-editor of nine volumes on cult cinema traditions, including 
Bodies of Desire and Bodies in Distress: The Golden Age of Italian Cult Cinema 
(2015), 
Peep Shows: Cult Film and the Cine-Erotic
 (2012), 
The Cult Film Reader 
(2008) and 
Dario Argento's Tenebrae
 (2000). He has also completed a number of documentaries on cult film traditions, most recently 
That's La Morte: Italian Cult Film and the Years of Lead
 (2018).