The Alchemy continues…
Our alchemical journey continued after lunch with the performance by Dr. Chris Wright. Following her in an active exploration of space through humming and bodily awareness, we reconvened in the presentation room to proceed with our dense programme. Not defeated by the first and, luckily only, IT complication of the day, we let the alchemy guide us to Georgina Garbett's presentation. Through story-telling and the characters of tricksters, she captivated the audience and suggested them to 'embrace the chaos'. Back in the presentation room, Gay Place and Jakub Ceglarz further developed their previous artistic collaboration into an exchange of thoughts about skin, gay, place and ink to challenge the idea of authorship, ownership and authenticity and welcome the audience's views on body, gender, and identity among others. After such an engaging panel, we paused for a coffee break. In such safe environment, our participants got to know each other, found unexpected and interesting connections and perhaps developed potential future ideas.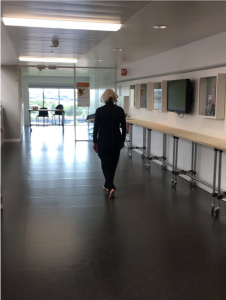 Gay Place and Jakub Ceglarz, Gay Place: a quiet piece of work in progress.
Dr. Chris Wright, Alchemical Happening #1.
Opening the following panel, Dr. Wright performed her bodily awareness of space a second time. After this second performative burst that concluded into a collective spatial exploration at the entrance of the building, Simon Paton presented his recently curated Thinking/Not Thinking Fest,as the result of the DIY Festival method. Wearing a black cloak and wide hat, Jill Robinson impersonated the 'Alchemist of Big Data' to highlight big data adverse effects and the potential of small data for young people in Birmingham. Our time in Parkside culminated in an uncoordinated dance that brought us all together to enact Ying Sun's presentation on Square Dance in China and her recent findings.
Jill Robinson, The alchemy of small data: making the invisible visible & empowering the powerless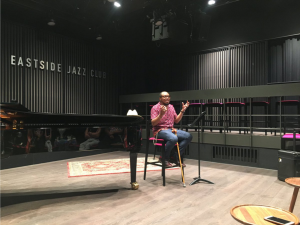 Adrian Earle, Precepts of neo-alchemy
In order to involve all the ADM researchers across BCU, we flew from one school to the other, from Parkside to the Jazz Lounge in the conservatoire, where writer/poet/second keynote speaker, Adrian Earle blew us away with his commissioned performance Precepts of neo-alchemy.In such intimate and cabaret-like space, Susie Self bravely revealed herself through an extract of Analysis, a multidimensional installation where singing, performing and acting interweave together and invite the public to participate. Lastly, Akvilè Stuart's integrated her presentation on Russian composer Alexei Stanchinsky with a piano performance, accompanied by singer Jessica Wise, to provide us with a more comprehensive understanding of legacy of this forgotten figure.
The very last part of the conference led us the School of Art. The journey, either through the canals guided by Greg Dunn or in small groups through Birmingham city centre, offered us another opportunity to bond together and explore potentialities. At the SoA, along with a generous wine & cheese reception, we found the Take Over, which is a two-week project bringing together practice-led and theory-based PhD students to test ideas, collaborations and initiate dialogues. Overall, the performs, interfaces, installations, walks, as well as encounters, sudden epiphanies, laughs and interruptions embodied the spirit of the conference – the alchemy – to bring together multiple approaches, practices, discourses and, most importantly, people to create an extravagant and successful day!
Read Alchemies of Research Part I by Susie Self
Read Alchemies of Research Part III by Georgina Garbett