Talking Heads: Media Training Event
28th July 2017
Angela English (School of Media, Birmingham City University)
Selina Schmidt (School of English, Birmingham City University)
Emily Bettison (School of Media, Birmingham City University)
The Idea
Talking Heads 2017 was an intensive one-day media training event which took place on the 28th of July at Birmingham City University.
As a group of Midlands3Cities PhD students at Birmingham City University we met to discuss the Talking Heads event that happened in 2016 through the Cohort Development Fund offered by Midlands3Cities. The 2016 event was aimed at teaching PhD students the necessary skills to undertake interviews, learning skills from media professionals.
We decided to flip this idea on it's head.
As PhD students we are aware that academics and researchers are often asked to appear on Radio and TV to discuss aspects of their research or comment on specific issues. We therefore wanted to give PhD students a head start in developing their ability to talk about their research in a way that is suitable for media platforms, such as radio and television.
The event was therefore designed to consider issues around radio and television interviews, and provide participants with an opportunity to gain both knowledge and practical experience to improve their interviewee techniques.
We set out to develop a day that would benefit PhD students across Birmingham, Nottingham and Leicester in three particular ways:
First we wanted to students to learn the skills necessary to talk about their research and related topics in radio and television interviews.
Second we wanted to provide students with an opportunity to take part in radio and television interviews conducted by media professionals in a media environment (the industry standard television and radio studios in the Parkside Building of Birmingham City University).
Finally, we wanted this to be a developmental experience for students, so we were keen for them to receive feedback and advice to aid their future development.
Funding
As PhD students who are part of the Midlands3Cities cohort, we were are lucky enough to be able to benefit from the support that this scheme offers. To run an event of this scale we needed financial support to pay for external speakers, the hiring of the rooms, and of course catering.
Midlands3Cities offer a 'Cohort Development Fund' (CDF) which "supports training, development and research activities of the cohort of Midlands3Cities students and groups/networks within the cohort." In particular the fund aims to "support students to lead on activities that feed into the M3C postgraduate culture." With this in mind we felt that applying for financial support from the CDF was the best route to take.
To gain CDF funding we had to develop and submit a funding application, and at this point it is important to highlight how helpful and supportive the Midlands3Cities staff team were in helping us to develop a strong, successful bid.
In developing our funding bid it was particularly important to consider the impact that this media training event would have on students from across the Midlands3Cities cohort, and we will discuss some of the ways that students benefitted later in this post!
The Schedule
As a media training event it was important to get radio and television professionals to help facilitate the day, ensuring that each student received professional advice and guidance.
Alongside an Introduction, Welcome Back and Closing Session facilitated by ourselves students were able to receive advice, watch a live TV interview and practice their skills through the following sessions that were offered throughout the day:
Introduction
'Selling Your Research' – Benjamin Goodwin
'My Experience of Selling Research' – Dr Nicolas Pillai

Television Experience
What TV Professionals look for – Patcee Francis
Top Tips – Patcee Francis
Practice TV Interviews – Patcee Francis
Radio Experience
What Radio Professionals look for – Alan Musson & Dr Paul Collins
Top Tips – Neil Hollins
Practice Radio Interviews – Alan Musson & Dr Paul Collins
Observing a Media Interview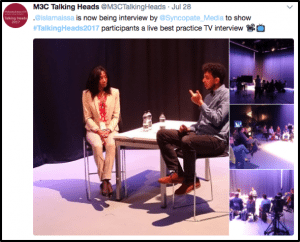 Patcee Fancis interviewing Islam Issa
The Event  
In particular we wanted the day to be supportive and help develop all students, regardless of their prior experience in media interviews. Splitting the participants into two smaller groups helped to create a developmental atmosphere, and people were able to work together and give constructive feedback to help everyone develop. The speakers were also fantastic at understanding the level of experience that the participants had and tailored their interview questions to reflect this, also offering constructive individual feedback to each participant.
As students at Birmingham City University we know the fantastic media facilities that are on offer in the Parkside Building. In particular were were pleased to be able to give students from a variety of institutions the opportunity to be interviewed in industry standard radio and television studios. Using these studios meant that we were able to record the radio interviews, and set up a television camera to show the students what their interview would look like on an actual TV.
Taking part in the day allowed us to think more widely about talking with others via interviews, and helped us to generate new ideas and insights through dialogue and collaboration with other students and media professionals throughout the intensive training day.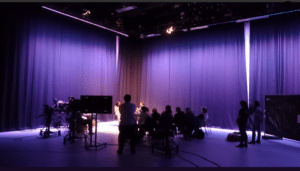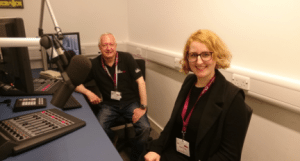 Feedback
We asked all participants to fill in a detailed evaluation form at the end of the day. We had 15 participants signed up and we received 12 evaluation forms. Participants across the M3C consortium were as follows, from cohorts 2 and 3.
University of Nottingham: 3
BCU: 4
University of Leicester: 3
University of Birmingham: 4
NTU: 1
DMU: 0
Feedback was overwhelmingly positive with all participants asking for a follow-up, more advanced event in 2018. All felt the event was well-organised with good catering and administrative procedures and would recommend it to other PhD candidates.
Some comments as follows:
'This was a fantastic event in terms of arming PhD students with skills for sharing research.'
'The range of speakers and academics provided an unparallelled level of practical information'.
'It has given me more confidence to discuss my work with non-academics'.
'A great day with lots of skills to take away'.
'As a non-native speaker it has helped me to speak more confidently about my topic'
Where Next?
With the success of Talking Heads 2017 we are currently in the process of developing Talking Heads 2018 which will take place in March next year.
Reviewing the feedback that we received we will be running the same day again as an 'Introductory Session' to media interviewing. This will be followed by a second day offering 'Advanced Training and Feedback' for students who would like to develop their skills further.
We hope that students who take part in the Advanced Training and Feedback session will be able to receive a certificate acknowledging that they have taken part in the training.
Contributors
We would like to use this opportunity to give a massive thank you to all the people that helped to make this day a big success!
Particular thanks to our contributors who helped facilitate sessions and offer students with advice and feedback:
Alan Musson – Jazz Radio Presenter at Black Country Radio
Ben Goodwin – Media Relations Manager, Birmingham City University
Dr Islam Issa – BBC New Generation Thinker for Radio 3 and BBC Four
Neil Hollins – BA Media and Communications Degree Leader
Dr Nicolas Pillai – AHRC Research Leadership Fellowship Holder
Patcee Francis – Midlands based Film Maker
Dr Paul Collins – Founder of Black Country Radio
Special Thanks:
Rachel Eames a PhD student at the University of Birmingham who helped us sift through applications and facilitate the day.
Hilary Weston-Jones at Birmingham City University for helping us book the television and radio studios.
Grace Pilsbury an MA student at Birmingham City University who worked for us as a runner for the day.
Shelley Fray at Birmingham City University who booked the catering for us.
All the Midlands3Cities staff who offered us guidance and support throughout the whole process, from developing an idea, to submitting a successful funding bid and facilitating the day.