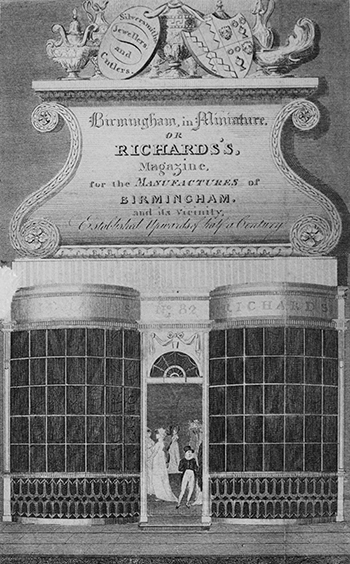 Birmingham in Miniature: Intricate Metal Work in Birmingham Before the Jewellery Quarter
In the eighteenth-century, Birmingham was famed for making small, usually metal, adornments – buttons, buckles, trinkets, chains and boxes – from traditional and non-traditional materials and using modern methods to produce articles at the height of fashion. These objects were called 'toys', and were the dominant manufacture of the town for about one hundred years. The jewellery trade which developed in the nineteenth-century extended from toy-making, the Jewellery Quarter itself expanding from a district of toy-makers. The talk will explore Birmingham's toy-making history as a background to later jewellery making, including some of the techniques which were particularly Birmingham-based, such as filigree, gilding, engraving, transfer printing and fine steel work.
For our first lecture this year, Talking Practice welcomes you to this talk by Jenni Dixon exploring the Birmingham Jewellery Quarter's industrial past, followed by a glass of wine in the Atrium afterwards.
Book online here
Jenni Dixon is currently conducting a PhD at Birmingham City University within the Centre of Printing History and Culture, researching Birmingham's toy-making trade in conjunction with a culture of curiosity in the eighteenth-century. At this time 'toys' were frequently called curiosities, and the work explores what influenced this association, including aesthetic qualities, but also other hidden qualities which acted on eighteenth-century imaginations. Work also examines eighteenth-century print culture and its role in the culture of curiosity, especially as a promotional tool.