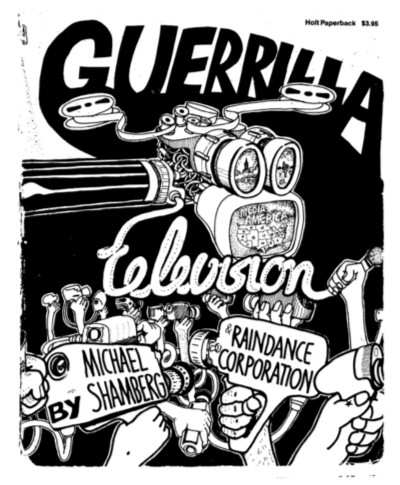 Dr. Michael Goddard (University of Westminster) | Guerrilla Television Revisited: US Public Access Televison in the 1970s as an Amateur Media Ecology
The term 'guerrilla' in proximity to a range of media has come to mean nothing more than low budget or DIY practices in a range of creative industries. However, in the US, in the 1970s guerrilla television had a much more precise meaning, in the specific technological context of the introduction of cable TV. Michael Shamberg, who popularised the term originally used in a more limited sense as the jamming of official broadcasting channels by Abbie Hoffman of the Yippies. For Shamberg, words like guerrilla or radical point to "post-political solutions to cultural problems" ("Process Notes", Guerrilla Television). However, it also embodied radical democratic ideals inherited form 1960s grass-roots activism.
The Guerrilla Television project involved a distinct articulation of technological practices, emergent technologies and non-hierarchical networking, in relation to both the technological context of the increased availability of video portapaks and editing technologies, alongside legal frameworks obliging cable companies to provide local assess TV content that lasted throughout the 1970s and beyond. This paper will therefore outline the participatory nature of guerrilla television, presenting the case study of Top Value Television (TVTV), and argue for considering it a participatory amateur network ecology, with valuable lessons for participatory media in the digital present.
Dr. Michael Goddard is a Senior Lecturer in Film, Television and Moving Image at the University of Westminster. His research broadly falls under three key areas of transnational cinema, popular music and media theory. He has published widely on Polish and Eastern European cinemas, and has also written a series of publications on post-punk and industrial music. Dr. Goddard is also a media theorist, especially in the fields of media ecology and media archaeology, as well as in digital media.
Free registration at this link